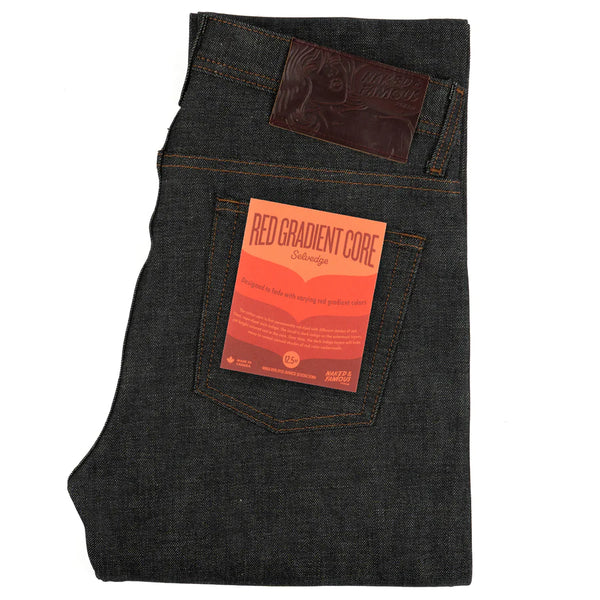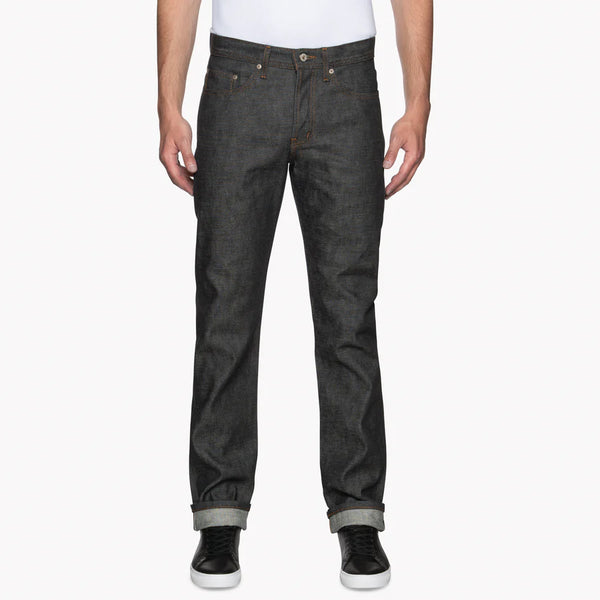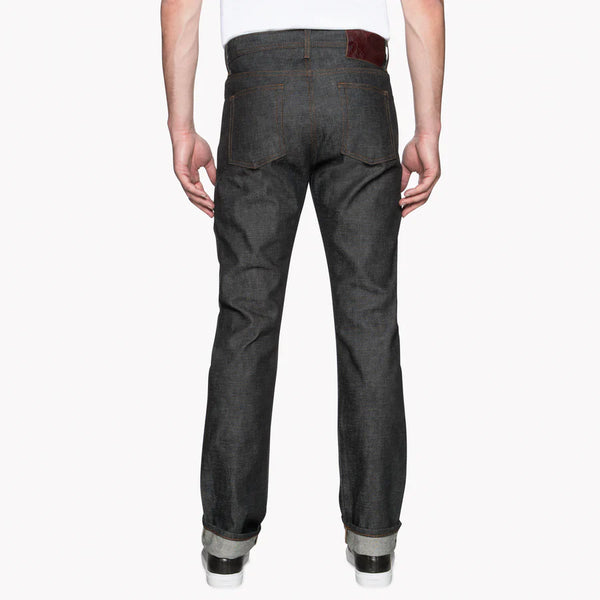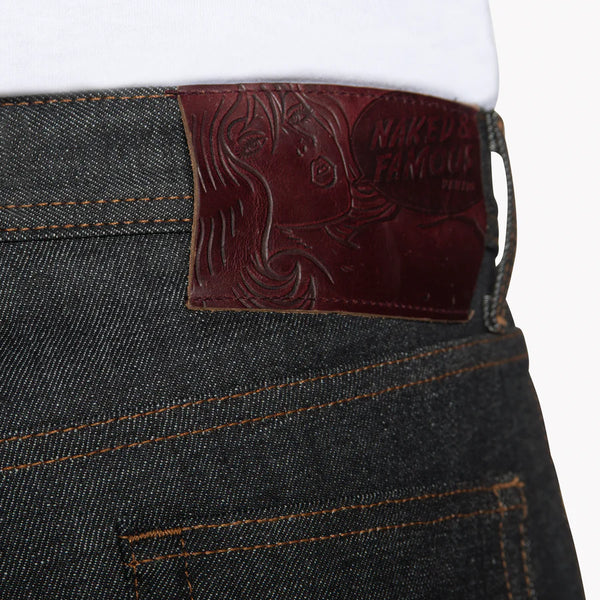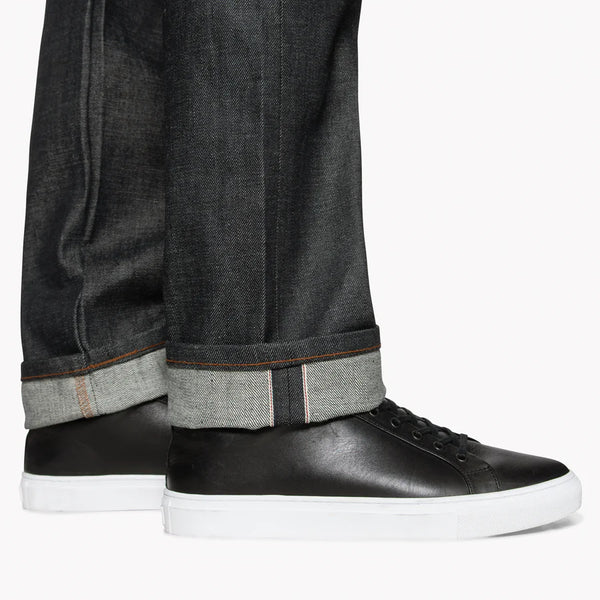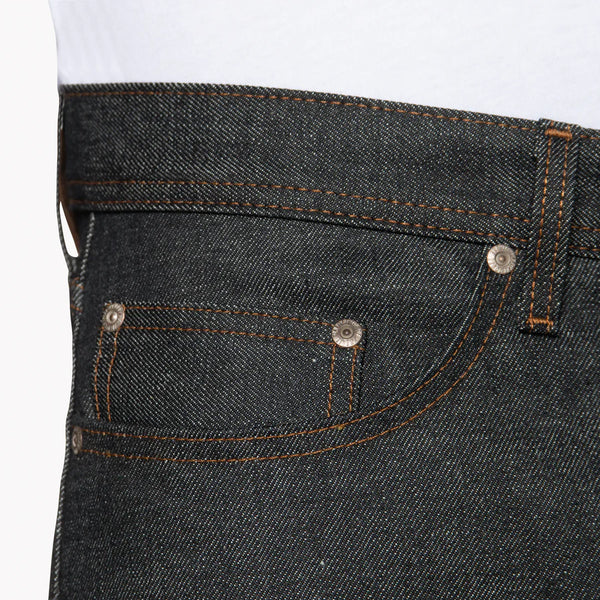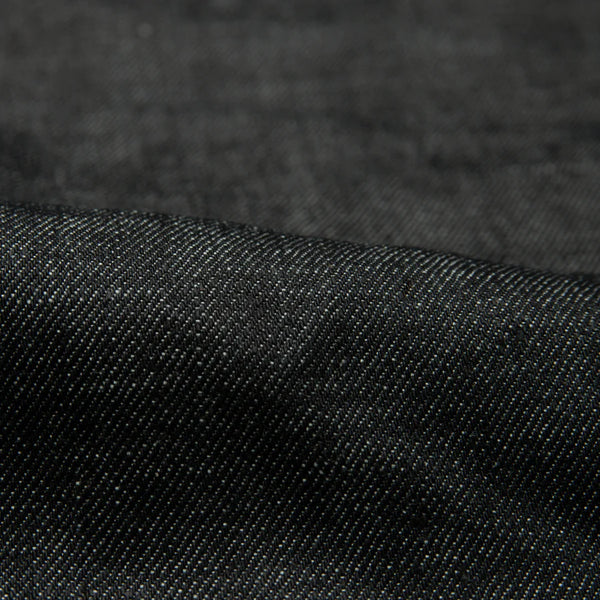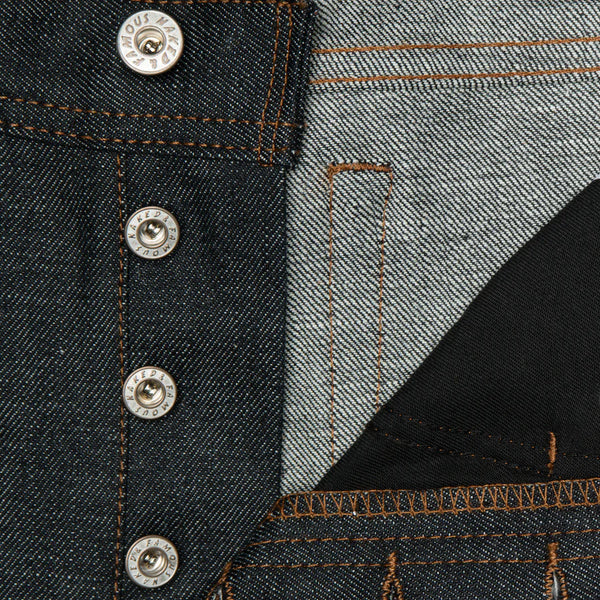 Weird Guy - Red Gradient Core Selvedge
The Red Gradient Core Selvedge is a 12.5oz Japanese Selvedge Denim. These may look like a classic pair of indigo dyed jeans, but there is a secret within the core of the yarns that make this fabric. Typically, the yarns used to make denim start off white and are dyed indigo. For the Red Gradient Core Selvedge, the white yarns are first dyed red using a permanent reactive dye, and afterwards are rope dyed with indigo. This creates a yarn that is indigo on the outside with a red center core yarn on the inside. As the indigo layers fade away, the reactive dyed core will begin to reveal itself. Furthermore, the core yarns were dyed with several shades of red to create a gradient tone once faded, so instead of fading to one shade of red you'll see a spectrum of red hues. This fabric is crisp and rigid with that classic raw denim feel. Cut, sewn, built in Canada with contrast stitching, burgundy pull up leather patch, and silver metallic buttons and rivets.  
The Weird Guy is a standard tapered fit with a medium rise, a comfortable top block, and a taper from knee to hem.
12.5oz Japanese Selvedge Denim

100% Cotton

Made in Canada
| | | | | | | | | | | | | |
| --- | --- | --- | --- | --- | --- | --- | --- | --- | --- | --- | --- | --- |
| TAG SIZE | 28 | 29 | 30 | 31 | 32 | 33 | 34 | 36 | 38 | 40 | 42 | 44 |
| WAIST | 30" | 31" | 32" | 33" | 34" | 35" | 36" | 38" | 40" | 42" | 44" | 46" |
| FRONT RISE | 11.25" | 11.5" | 11.75" | 11.75" | 12" | 12.25" | 12.25" | 12.5" | 12.5" | 13" | 13.25" | 13.25" |
| BACK RISE | 14" | 14.25" | 14.5" | 14.75" | 14.75" | 15" | 15.25" | 15.25" | 15.5" | 15.75" | 16" | 16" |
| UPPER THIGH | 11.5" | 11.5" | 11.75" | 12" | 12.25" | 12.5" | 12.5" | 13" | 13.5" | 14" | 14.5" | 15" |
| KNEE | 8" | 8.25" | 8.5" | 8.75" | 9" | 9.25" | 9.5" | 9.75" | 10.25" | 10.5" | 10.75" | 11.25" |
| LEG OPENING | 6.5" | 6.75" | 7.25" | 7.5" | 7.5" | 7.75" | 8" | 8.25" | 8.75" | 9.25" | 9.25" | 9.75" |
| INSEAM | 35" | 35" | 35" | 35" | 35" | 35" | 35" | 35" | 35" | 35" | 35" | 35" |