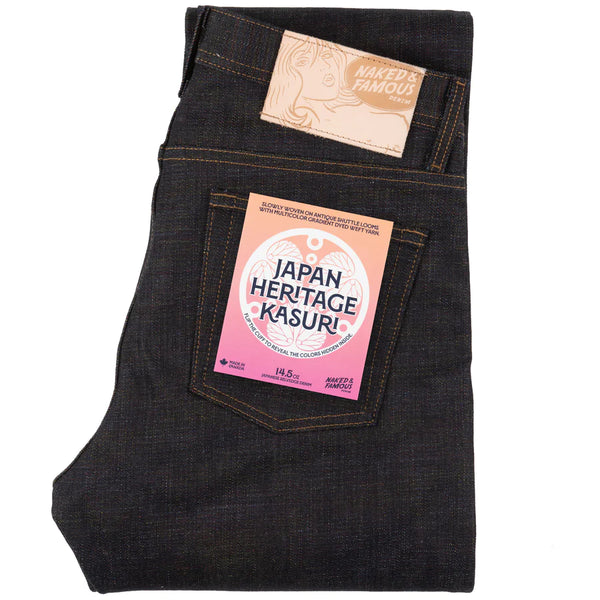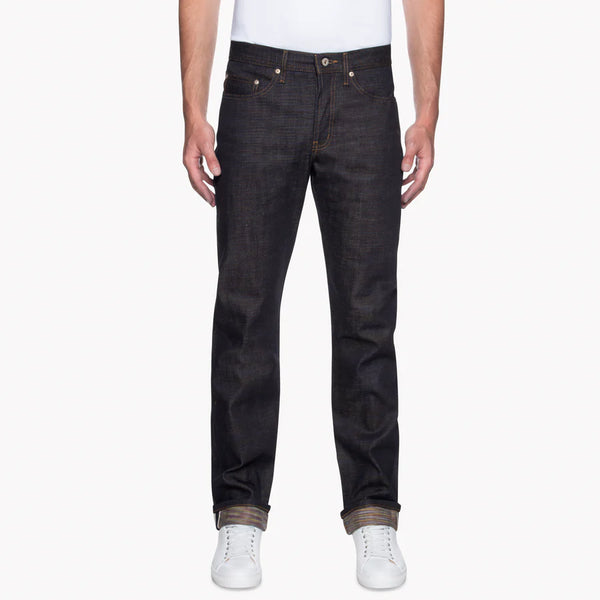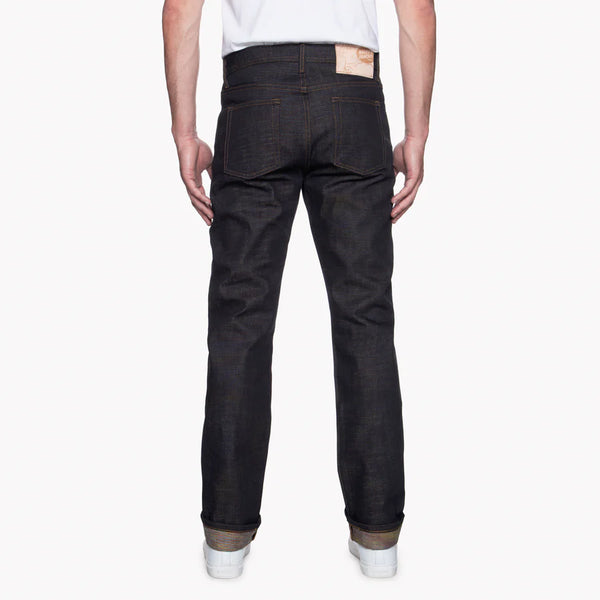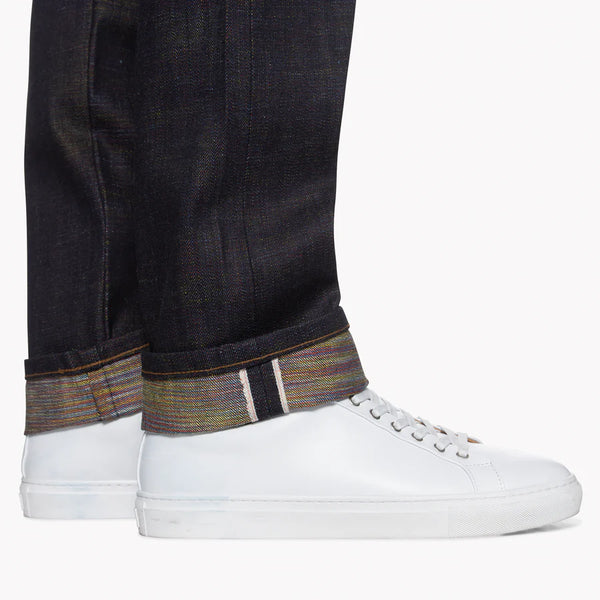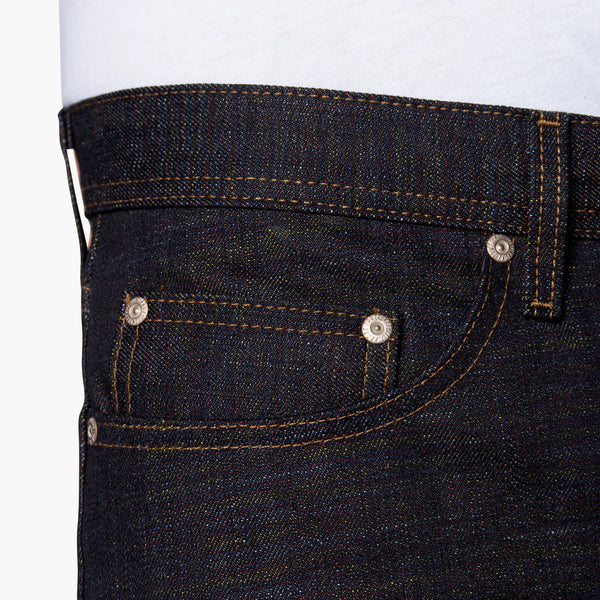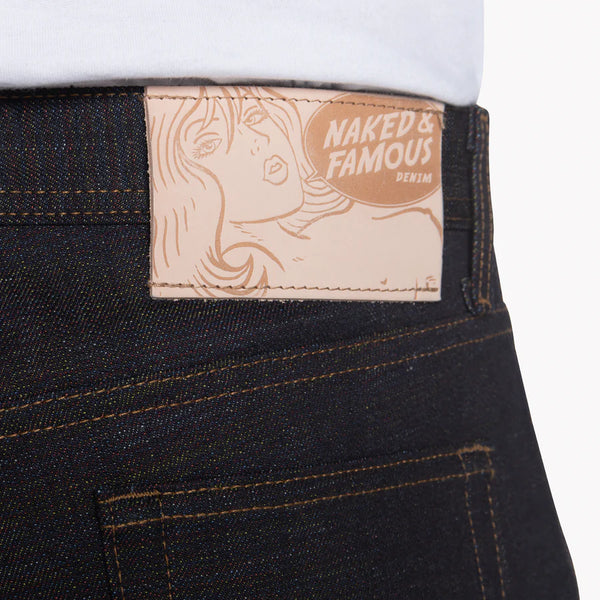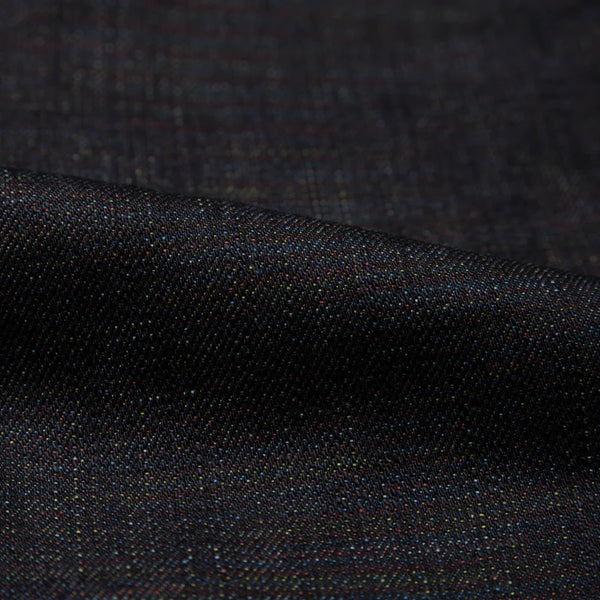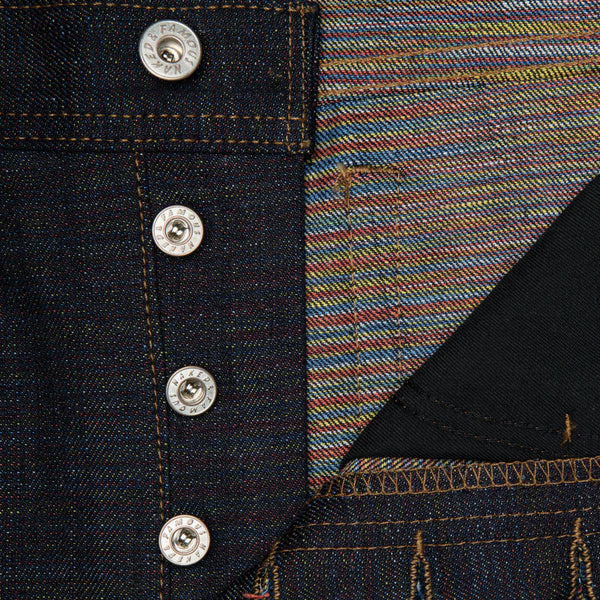 Weird Guy - Japan Heritage Kasuri
The Japan Heritage Kasuri is a 14.5oz Japanese selvedge denim with a colorful Kasuri dyed weft interior. The cotton weft yarns are laid out lengthwise and dye is applied in sections perpendicular to the length of the yarn. The result is a single strand of yarn with a gradient of colorful tones throughout. This is then combined with a slubby rope dyed indigo warp and slowly woven on vintage shuttle looms at a low tension in such a way to create an uneven organic texture, reminiscent of hand-woven fabrics. Cut, sewn, built in Canada with contrast stitching, vintage pink line selvedge ID, vegetable tanned leather patch, and silver metallic buttons and rivets.  
The Weird Guy is a standard tapered fit with a medium rise, a comfortable top block, and a taper from knee to hem.
14.5oz Japanese Selvedge Denim

100% Cotton

Made in Canada

SKU:

 101666303
| | | | | | | | | | | | |
| --- | --- | --- | --- | --- | --- | --- | --- | --- | --- | --- | --- |
| TAG SIZE | 28 | 29 | 30 | 31 | 32 | 33 | 34 | 36 | 38 | 40 | 42 |
| WAIST | 29.5" | 30.5" | 31.5" | 32.5" | 33.5" | 34.5" | 37.5" | 40" | 41.5" | 43.5" | 45.5" |
| FRONT RISE | 11" | 11.25" | 11.5" | 11.75" | 12" | 12.25" | 12.75" | 13" | 13.25" | 13.25" | 13.5" |
| BACK RISE | 14.25" | 14.5" | 14.5" | 14.5" | 14.75" | 15" | 15.5" | 15.75" | 16.25" | 16.25" | 16.75" |
| UPPER THIGH | 10.75" | 11" | 11.25" | 11.75" | 11.75" | 12.25" | 12.75" | 13.25" | 13.75" | 14.5" | 15" |
| KNEE | 8" | 8" | 8.25" | 8.75" | 8.75" | 9" | 9.5" | 10" | 10.5" | 10.75" | 11" |
| LEG OPENING | 6.75" | 7" | 7" | 7.25" | 7.5" | 8.25" | 8.25" | 8.5" | 9" | 9" | 9.25" |
| INSEAM | 34.25" | 34.25" | 34.25" | 34.25" | 34.25" | 34.25" | 34.25" | 34.25" | 34.25" | 34.25" | 34.25" |