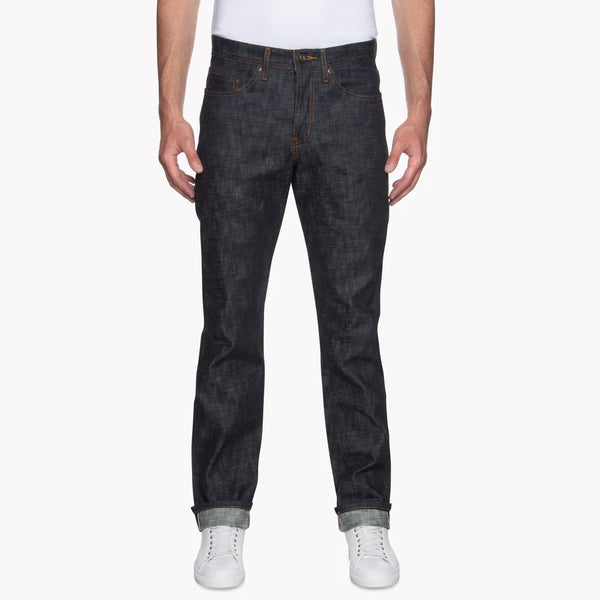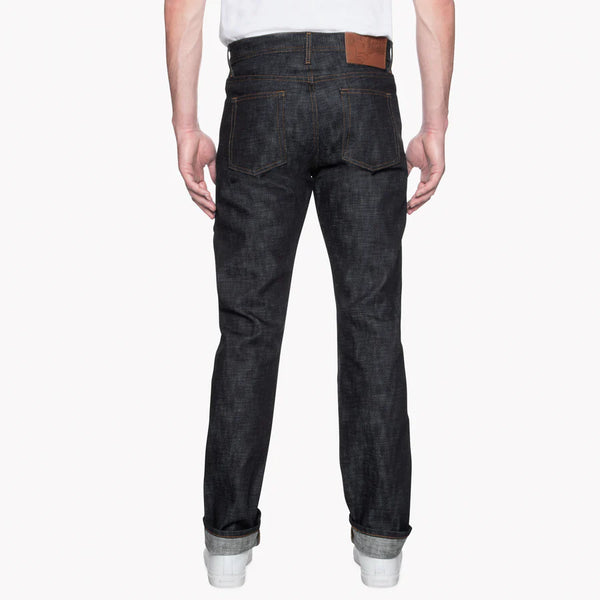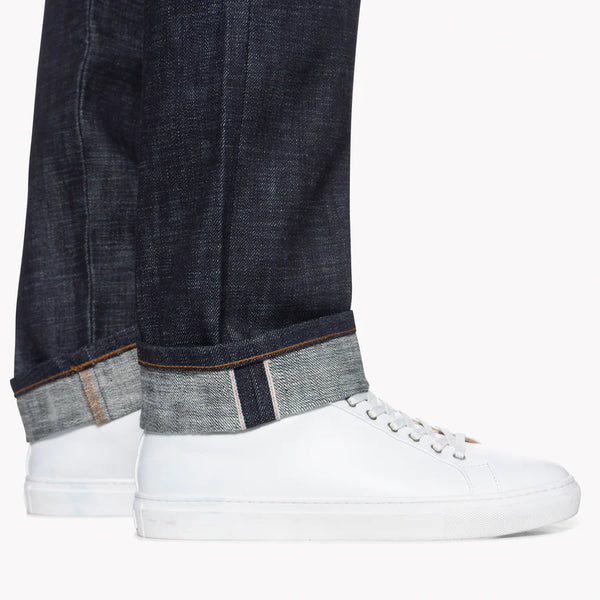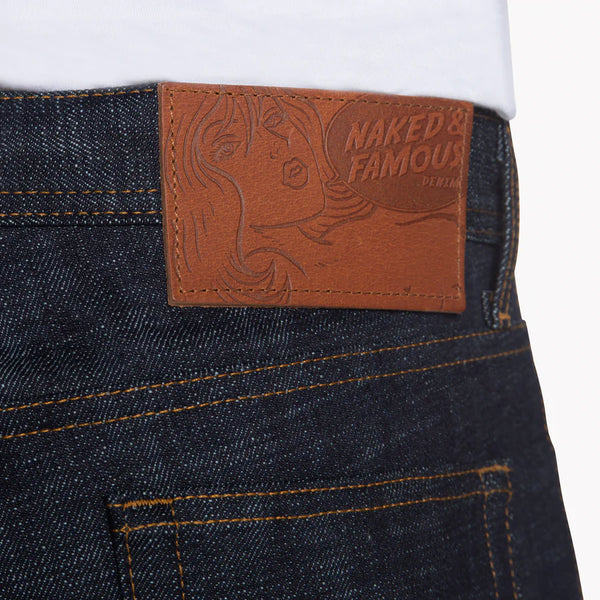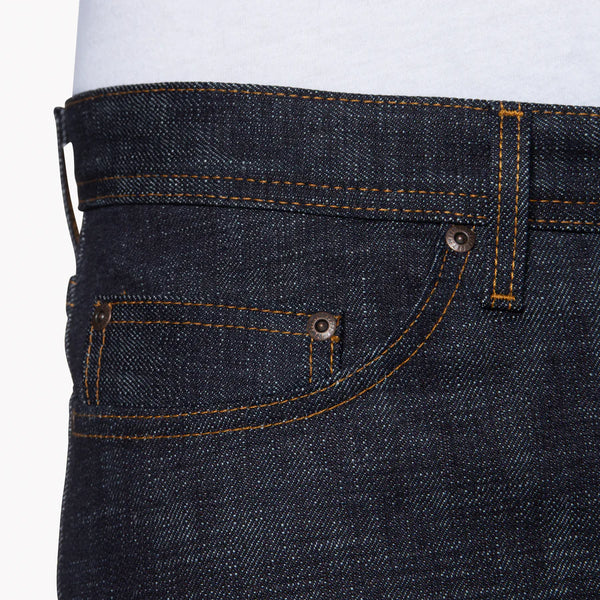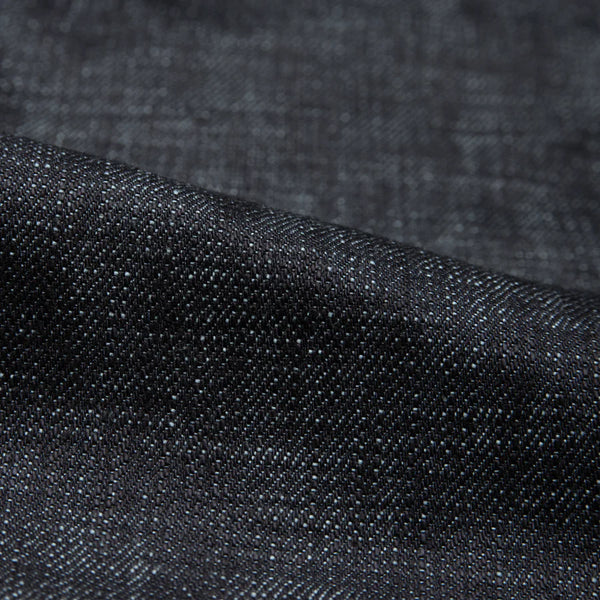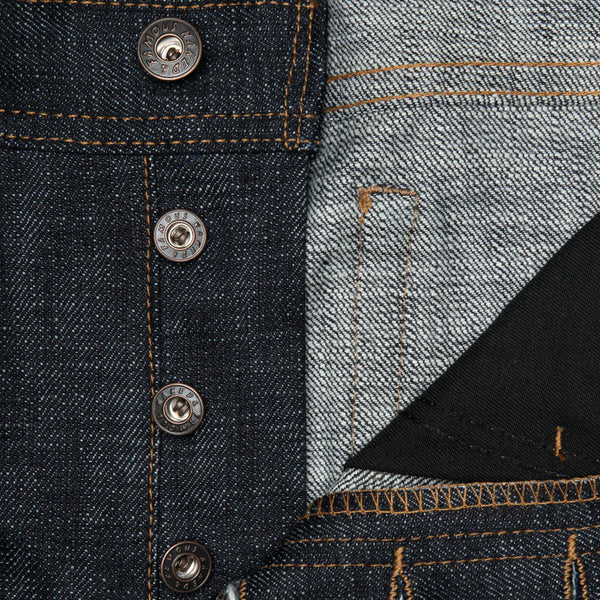 Weird Guy - Fire Bird Selvedge
The Fire Bird Selvedge is a 15.5oz Japanese Selvedge denim. This denim is made using irregular shaped slub yarns in the weaving process. These yarns are thick in some parts and thin in others. When dyed indigo is absorbed unevenly allowing for a wide spectrum of indigo shades to present themselves with wear. Low tension weaving creates further irregularity in the fabric. The result is a denim full of high and low indigo penetration points creating a flamey surface appearance that will fade with an emphasis on vertical striations. The fabric is dense and rigid, and despite being slubby, the surface texture is smooth like a classic pair of raw jeans. Cut, sewn, built in Canada with contrast stitching, redline selvedge ID, a 10oz cuba tan leather patch, and antique copper buttons and rivets.  
The Weird Guy is a standard tapered fit with a medium rise, a comfortable top block, and a taper from knee to hem.
15.5oz Japanese Selvedge Denim

100% Cotton

Made in Canada
| | | | | | | | | | | | | |
| --- | --- | --- | --- | --- | --- | --- | --- | --- | --- | --- | --- | --- |
| TAG SIZE | 28 | 29 | 30 | 31 | 32 | 33 | 34 | 36 | 38 | 40 | 42 | 44 |
| WAIST | 30.5" | 31.5" | 32.5" | 33.5" | 34.5" | 35.5" | 36.5" | 38.5" | 40.5" | 42.5" | 44" | 45" |
| FRONT RISE | 11.5" | 11.75" | 11.75" | 12" | 12.25" | 12.5" | 12.5" | 12.5" | 13" | 13.5" | 13.5" | 13.75" |
| BACK RISE | 14.75" | 14.75" | 14.75" | 15" | 15.25" | 15.25" | 15.5" | 15.75" | 16" | 16.25" | 16.5" | 16.75" |
| UPPER THIGH | 11.25" | 11.5" | 11.75" | 12" | 12.25" | 12.5" | 12.75" | 13.25" | 14" | 14.25" | 14.5" | 15.5" |
| KNEE | 8" | 8.25" | 8.5" | 8.75" | 9" | 9.25" | 9.5" | 10" | 10.25" | 10.25" | 11" | 11.75" |
| LEG OPENING | 7" | 7" | 7.25" | 7.5" | 7.5" | 8" | 8" | 8.5" | 8.75" | 9" | 9.5" | 10" |
| INSEAM | 34.5" | 34.5" | 34.5" | 34.5" | 34.5" | 34.5" | 34.5" | 34.5" | 34.5" | 34.5" | 34.5" | 34.5" |