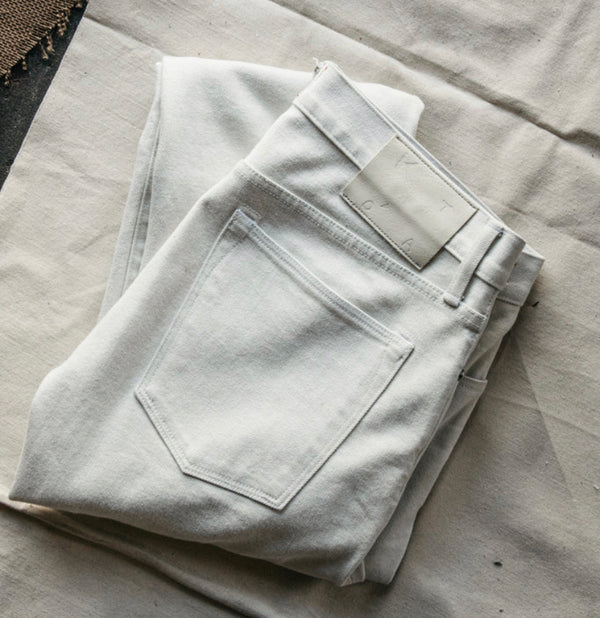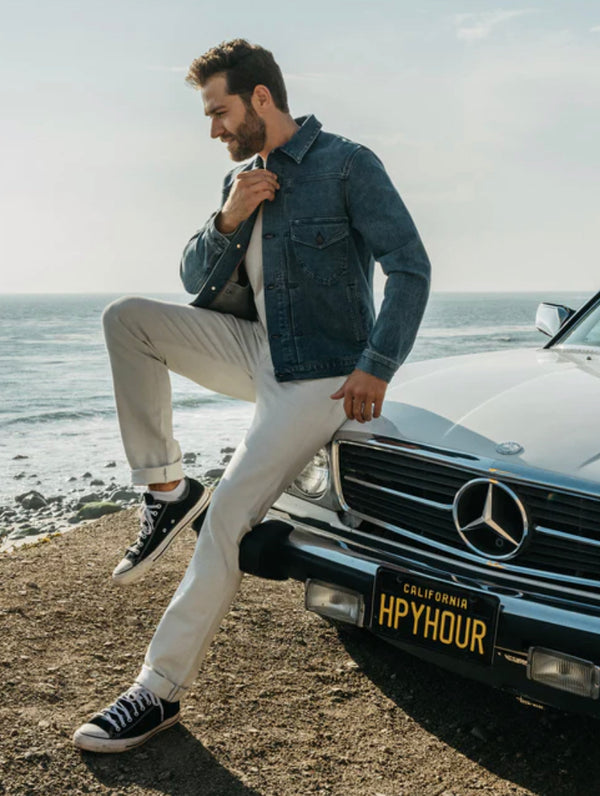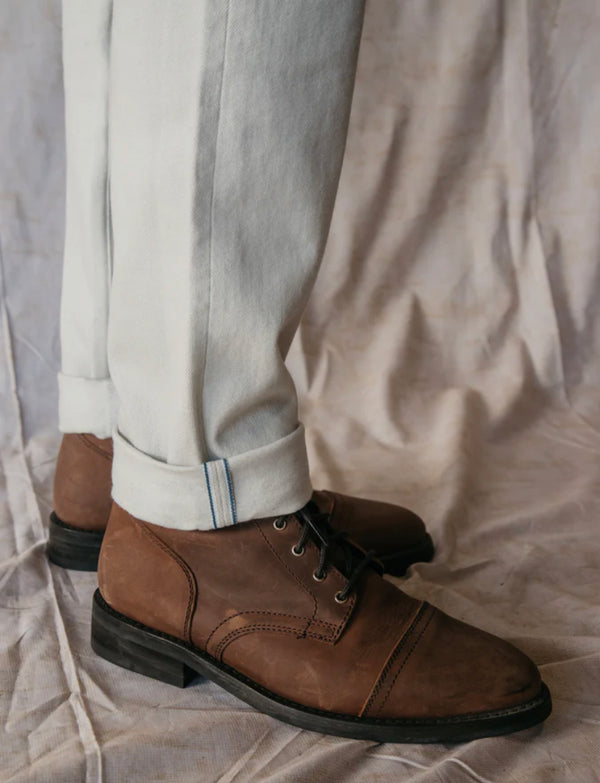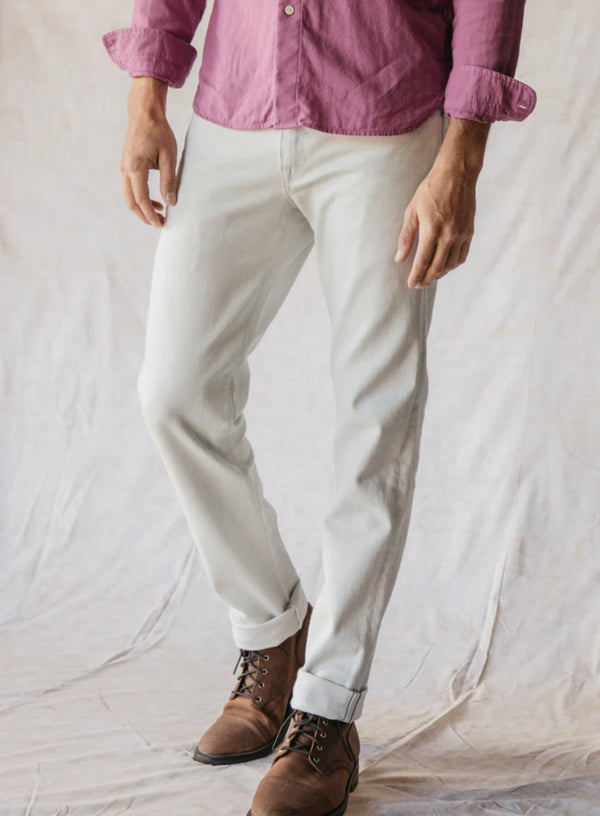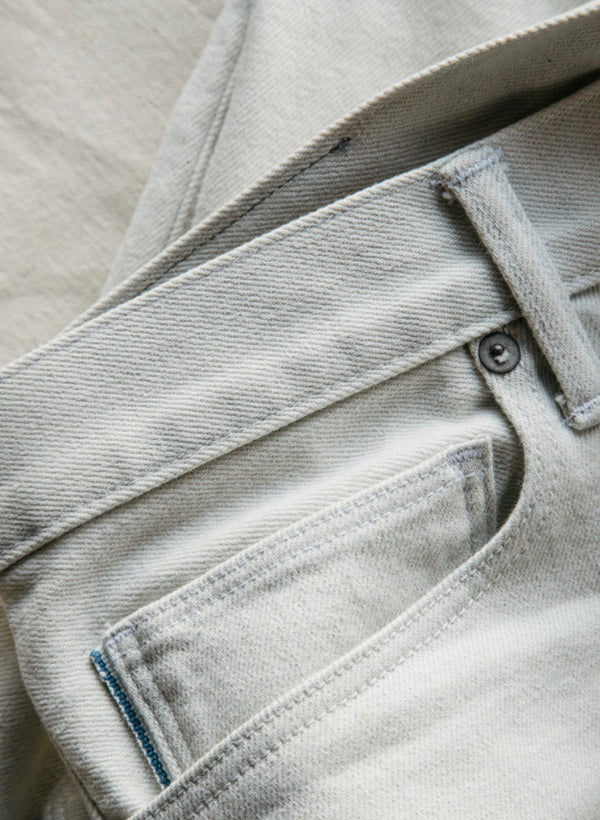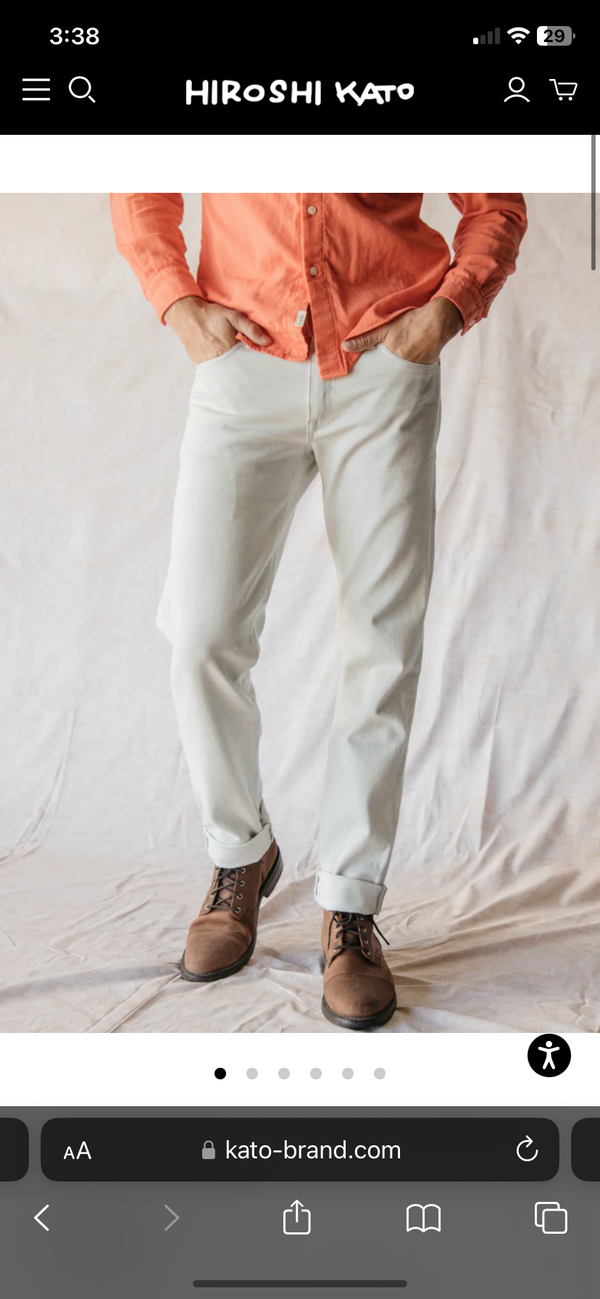 The Pen Slim - Silver Gray White 14oz Selvedge
The "White" is a wash perfect if you want a pair of white denim but don't want it to be blindingly white. A bit of the Grey remains, so it tones down the overall appearance of these "White" jeans. Available in The Pen Slim.
Kato's premium denim is inspired by the classic vintage blue jean. Our Premium Japanese 4-Way Stretch Selvedge denim story starts in Japan where their fabric is developed at one of the oldest denim mills. We blend a unique 4 way stretch material with selvedge denim to create a specific amount of stretch and comfort you wouldn't typically get with selvedge denim. This 360 degree of stretch gives the wearer comfort from every angle no matter what they are doing.
4-Way Stretch selvedge fabric is weaved using vintage shuttle looms. Rolls of denim fabric are then brought into our workshop in Los Angeles where each pair goes through a 60 to 90 day process of cut, sew, washing and testing.
• 96% COTTON 4% POLYURETHANE
• Made in USA
• 4-Way stretch selvedge denim
• The model is 6'3" and wearing the size 32.
Advice is these run true to size. Take what size you normally wear in most denim
| | | | | | | | | | | |
| --- | --- | --- | --- | --- | --- | --- | --- | --- | --- | --- |
| Size | 28 | 29 | 30 | 31 | 32 | 33 | 34 | 36 | 38 | 40 |
| Waistband | 30" | 31" | 32" | 33" | 34" | 35" | 36" | 38" | 40" | 42" |
| Front rise | 9" | 9 1/4" | 9 1/2" | 9 3/4" | 10" | 10 1/4" | 10 1/2" | 11" | 11 1/2" | 12" |
| Thigh | 21 1/2" | 22" | 22 1/2" | 23" | 23 1/2" | 24" | 24 1/2" | 25 5/8" | 26 3/4" | 27 7/8" |
| Knee | 15 1/4" | 15 1/2" | 15 3/4" | 16" | 16 1/4" | 16 1/2" | 16 3/4" | 17 1/4" | 17 3/4" | 18 1/4" |
| Leg Opening | 13" | 13 1/4" | 13 1/2" | 13 3/4" | 14" | 14 1/4" | 14 1/2" | 15" | 15 1/2" | 16" |
| Inseam | 34" | 34" | 34" | 34" | 34" | 34" | 34" | 34" | 34" | 34" |