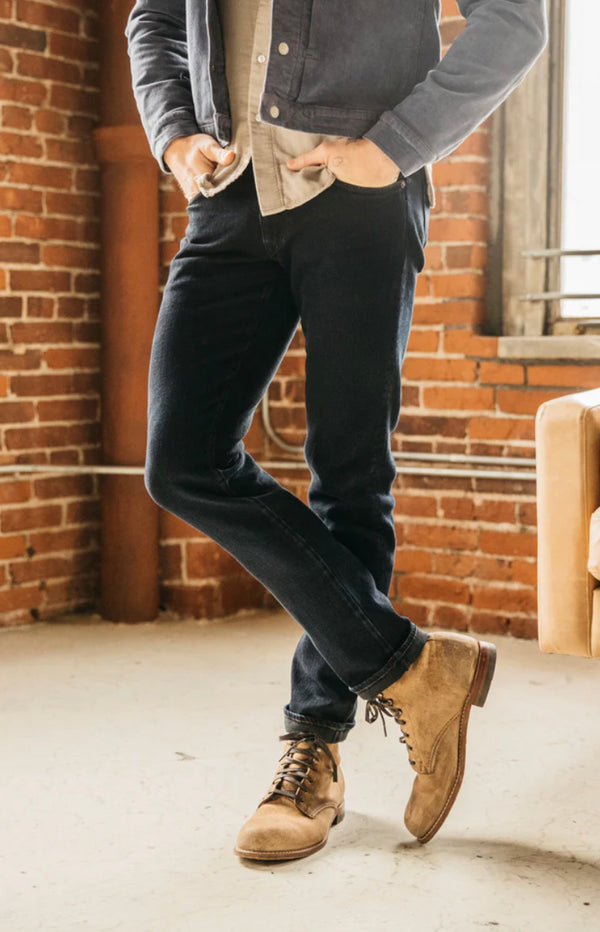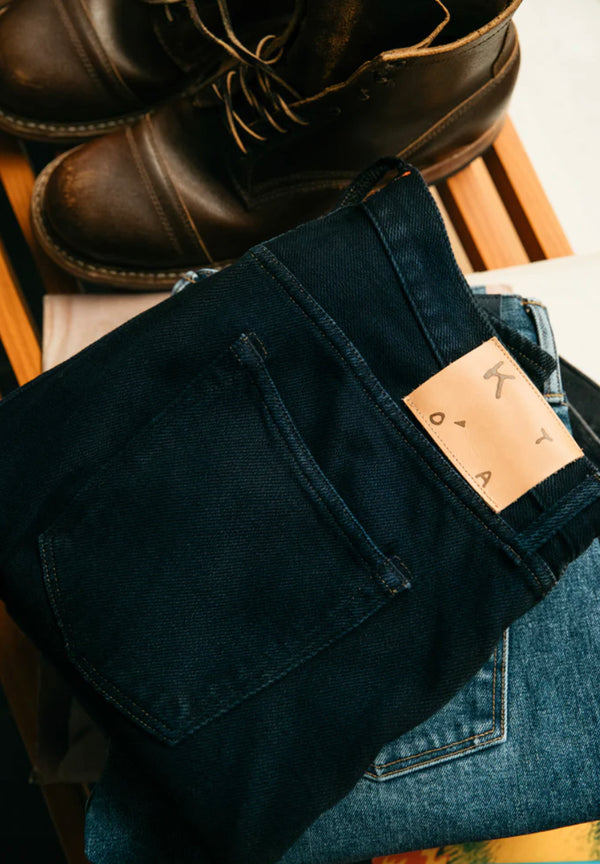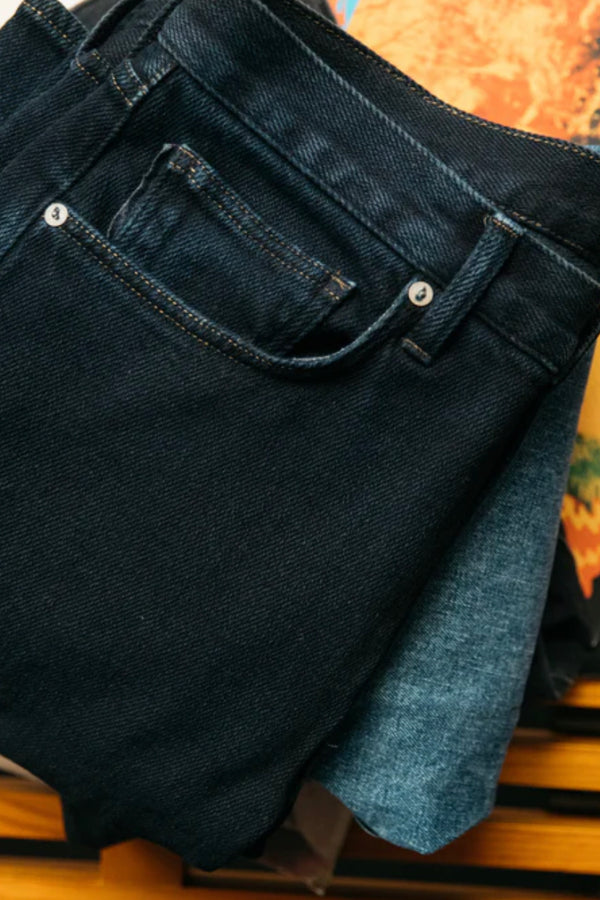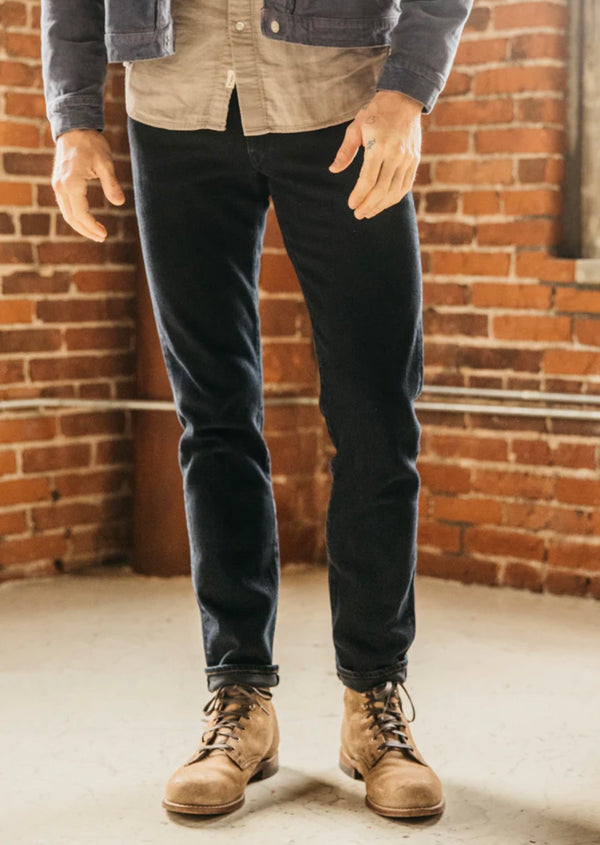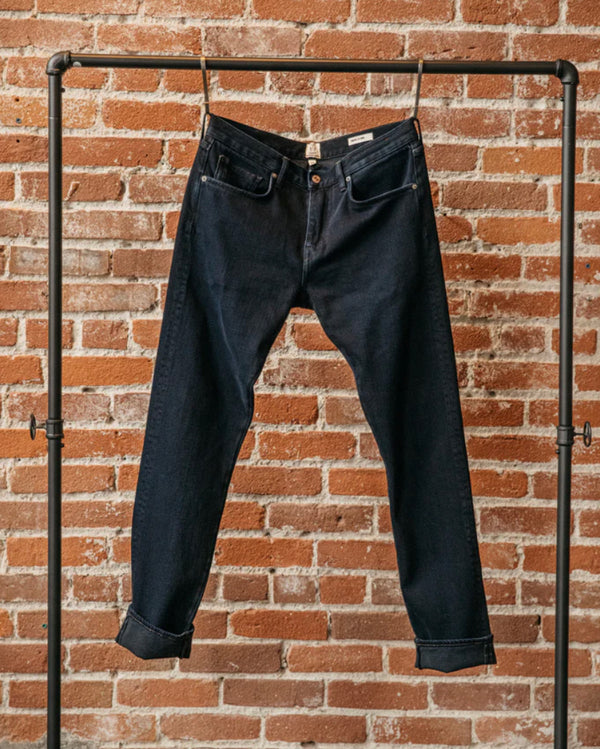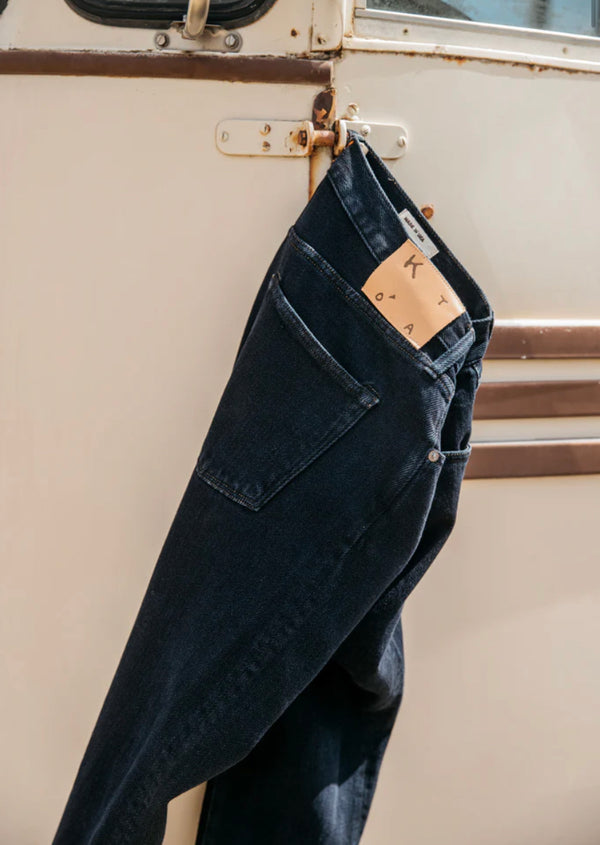 The Pen Slim - Nina Air 11.5oz
The idea for Selvedge Air was born out of the love for old vintage denim and the need for comfort. This denim has the look and feel of a 15oz denim but is actually a 11.5oz 4 Way Stretch Selvedge.

Instead of using the usual 3 X 1 weave of standard denim, Kato implemented a 5 x 1 weave. This creates a denim with a higher surface thread count but a lower overall thread count, making it lighter and still durable. The low tension yarns and loose denim weave contribute to the thicker look of the denim while maintaining its light feel. The overall result is a vintage textured denim that looks like heavy weight and feels like a lightweight.

For "The Nina" they used denim that was woven using ropedyed indigo yarns and then overdyed the entire garment in black. This method creates a denim that will start off black and will fade to first reveal the indigo, and then fade to white. The depth of color and the high contrast of the fades from this denim will be like no other, making overdyed denim highly sought after by denimheads.
• Slim fit
• Indigo washed 11.5oz
• Overdyed
• 98% COTTON 2% POLYURETHANE
• 4-Way stretch selvedge denim
• Made in USA
• Model is 6'3" and wearing a size 32. I own several pairs and generally have bought true to size.
| | | | | | | | | | | |
| --- | --- | --- | --- | --- | --- | --- | --- | --- | --- | --- |
| Size | 28 | 29 | 30 | 31 | 32 | 33 | 34 | 36 | 38 | 40 |
| Waistband | 15" | 15 1/2" | 16" | 16 1/2" | 17" | 17 1/2" | 18" | 19" | 20" | 21" |
| Front rise | 9" | 9 1/4" | 9 1/2" | 9 3/4" | 10" | 10 1/4" | 10 1/2" | 11" | 11 1/2" | 12" |
| Thigh | 21 1/2" | 22" | 22 1/2" | 23" | 23 1/2" | 24" | 24 1/2" | 25 5/8" | 26 3/4" | 27 7/8" |
| Knee | 15 1/4" | 15 1/2" | 15 3/4" | 16" | 16 1/4" | 16 1/2" | 16 3/4" | 17 1/4" | 17 3/4" | 18 1/4" |
| Leg Opening | 13" | 13 1/4" | 13 1/2" | 13 3/4" | 14" | 14 1/4" | 14 1/2" | 15" | 15 1/2" | 16" |
| Inseam | 34" | 34" | 34" | 34" | 34" | 34" | 34" | 34" | 34" | 34" |