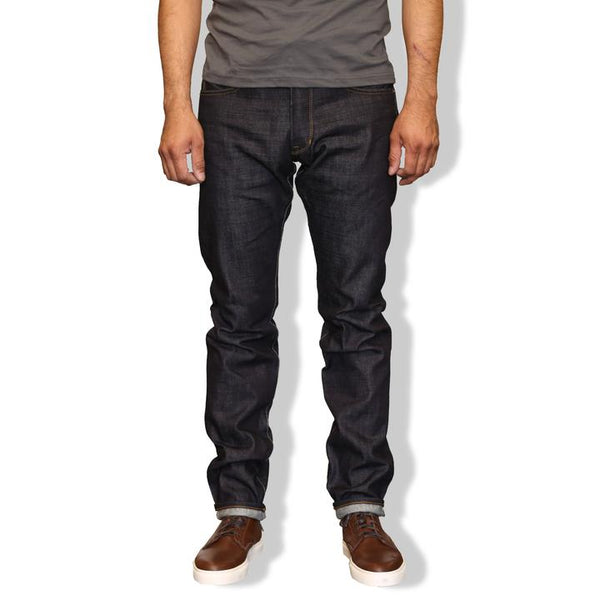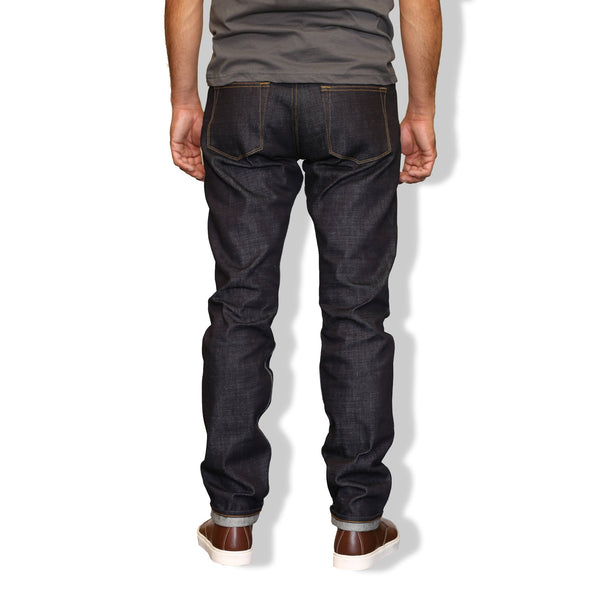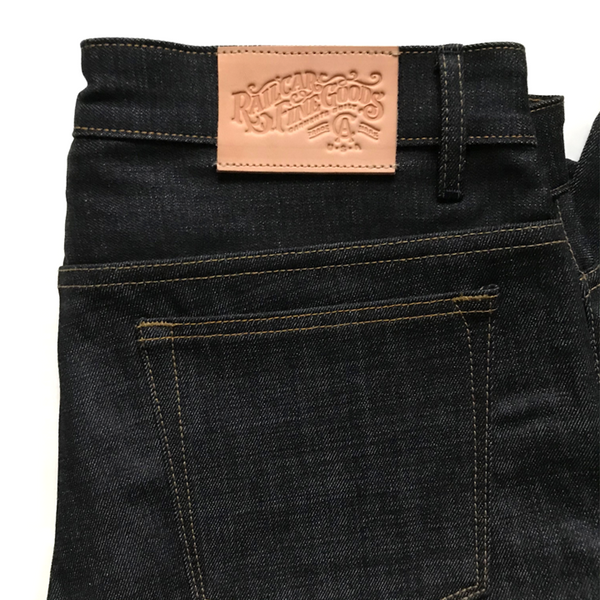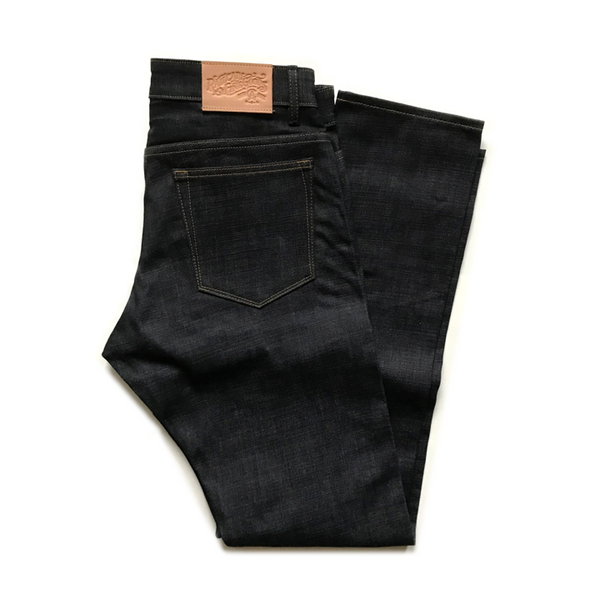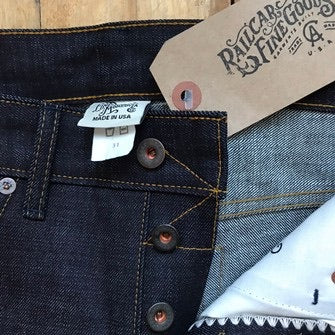 SPIKES X056 14.75 DARK INDIGO SELVEDGE JEANS
- 14.75 ounce medium/heavy weight, dark indigo selvedge denim
- Double waistband construction to reduce waistband over-stretch
- Tucked waistband stitching to minimize the chances of unraveling
- Tucked loops under the waist band for a clean look
- Railcar branded, made in USA, hardware and traditional washer burr riveting
- In-house made and embossed, vegetable tanned leather patch
Always made in-house on a collection of

 

specialized and 

highly tuned denim equipment for the highest quality.  Made in the Railcar workshop in Monrovia, California.
The new Railcar Spikes X056. If you're looking for a dark and crispy, medium to heavy weight pair of jeans, look no further. The X056 fabric was woven tightly to achieve a crispy feel to the touch, while also having noticeable yarn texture due to its irregular yarn sizes. The fabric will instantly crease at first wear, which will give you well-defined highs and lows as it ages with wear. The Spikes fit is a handsome fit - not too tight or too loose. Railcar created this fit so there is enough room at the top block and thighs, and comes to a taper at the bottom opening. 
| | | | | | | | |
| --- | --- | --- | --- | --- | --- | --- | --- |
| Size | WB | Front Rise | Back Rise | Thigh | Knee | Bottom Opening | Inseam |
| 28 | 15 | 10 | 13.75 | 10.75 | 7.75 | 6 | 31 |
| 29 | 15.75 | 10 | 13.75 | 10.75 | 7.75 | 6.25 | 31 |
| 30 | 16.25 | 10 | 14 | 11.25 | 8.25 | 6.5 | 33.5 |
| 31 | 16.75 | 10.5 | 14.25 | 11.25 | 8.25 | 6.5 | 33.5 |
| 32 | 17.25 | 11 | 14.5 | 11.75 | 8.5 | 7 | 34 |
| 33 | 17.5 | 11 | 15 | 12 | 8.75 | 7 | 34 |
| 34 | 18 | 11.5 | 15 | 12.25 | 8.75 | 7.5 | 34 |
| 35 | 18.75 | 12.25 | 16.5 | 12.75 | 9 | 7.5 | 34 |
| 36 | 19 | 12.75 | 16.75 | 13 | 9.25 | 7.75 | 34 |