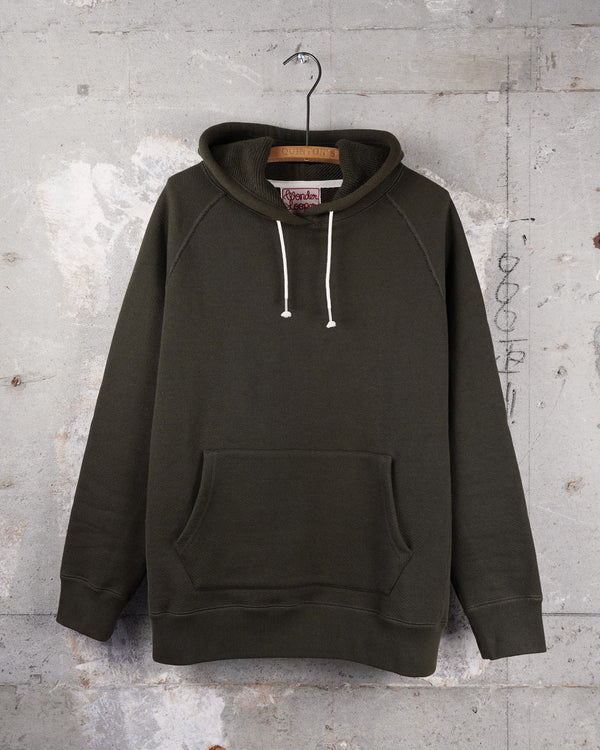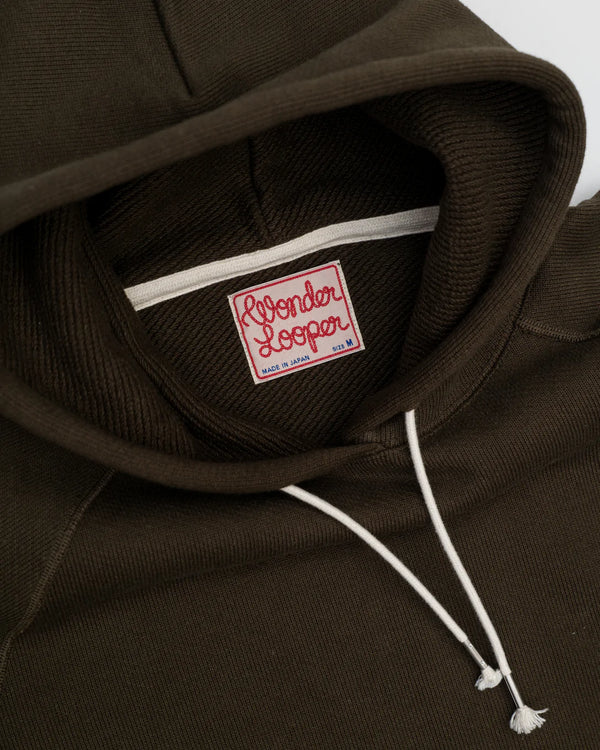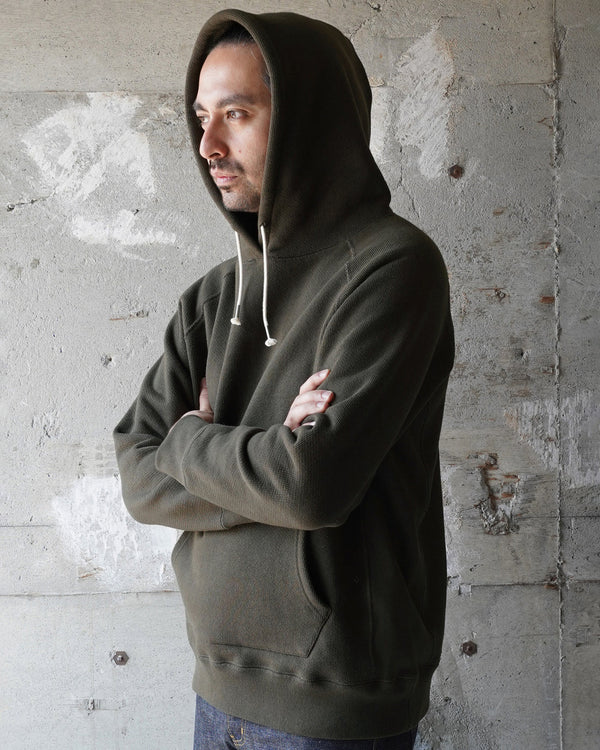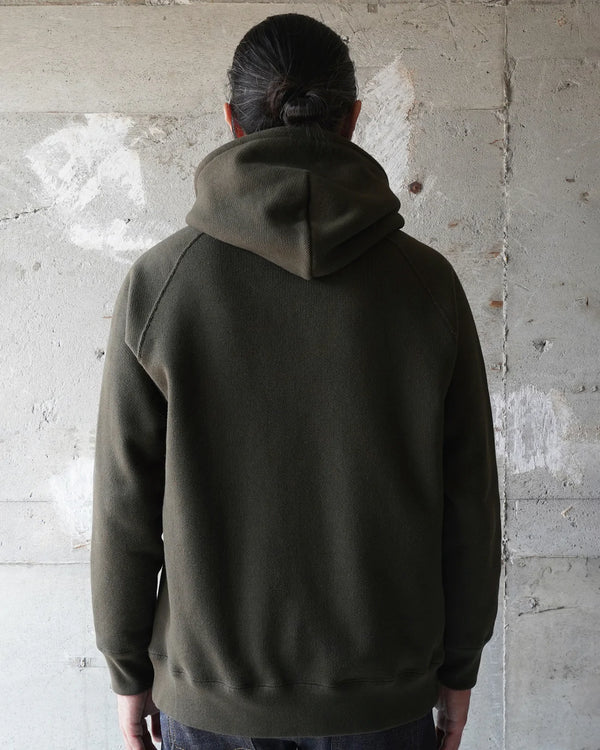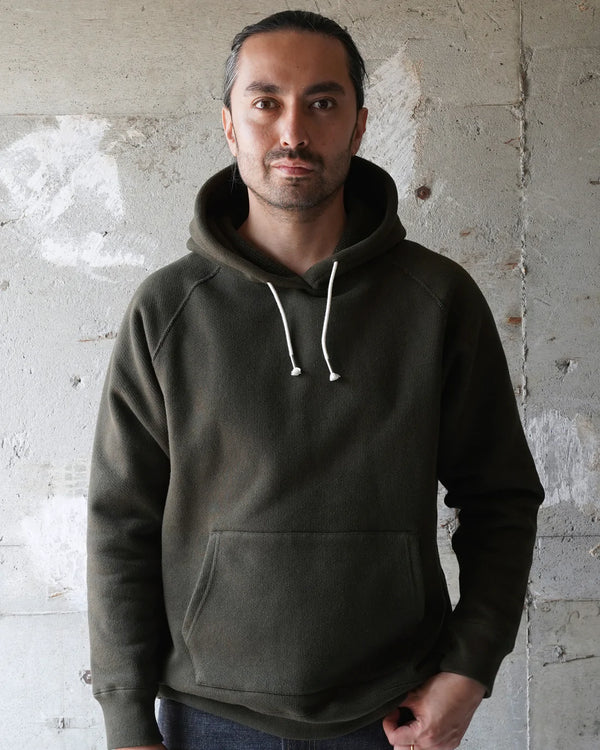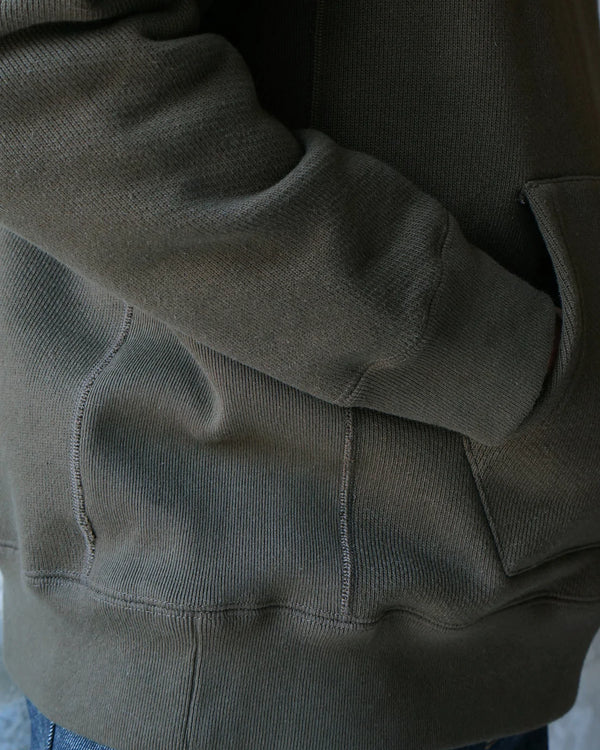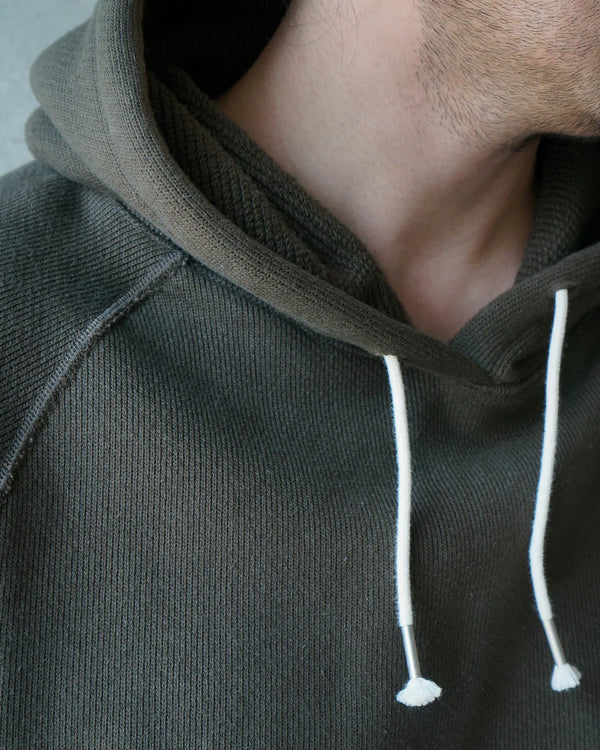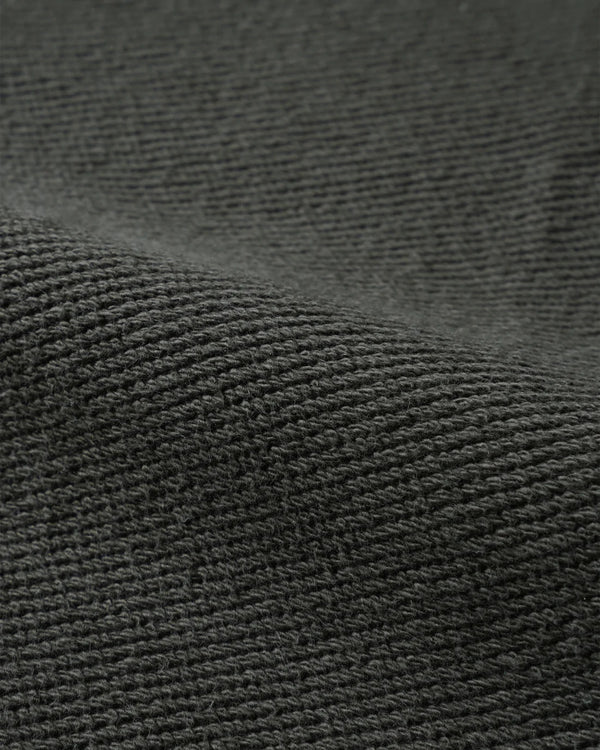 Pullover Hoodie - 701gsm Double Heavyweight French Terry - Khaki Green

It you aren't familiar with this brand, you're going to be. Wonder Looper is the brainchild of longtime Naked & Famous friends, Bahzad Trinos and Risa Saito, these knits, tees and hoodies coming in blazing hot. These are the types of garments that were made 60-70 years ago, timeless fashion pieces that you can own forever. 
Wonder Looper's 701gsm (21oz per square yard) Double Heavyweight French Terry Pullover Hoodie is made from one of the heaviest knits ever produced with a weight approximately two times that of a standard heavyweight knit. Made in Wakayama Japan on circular knitting machines, this low gauge (10G) French terry has an irregular surface texture with large soft loops on the inside.

The Pullover Hoodie is modern athletic fit and features a double lined drawstring hood, kangaroo pocket, raglan sleeves, ribbed side panels, ribbed cuffs and hem, flat seam construction and is made in Japan.
 ---
Double Heavyweight French Terryは701gsmという世界でもトップクラスのヘビー級の裏毛生地です。通常のヘビーウェイトのスウェットの2倍にも及ぶ極厚生地は和歌山でローゲージの編み機を使って編み上げています。ムラのある表情と裏の柔らかい大きなループが特徴です。
Pullover Hoodieはモダンアスレチックフィットのフーディー。2重になったドローストリング付きのフードとカンガルーポケットを加え、ラグランスリーブ、サイドのリブパネル、フラットシーマの縫製で快適なフィットを作り上げました。
701gsm / 21oz per square yard
100% Cotton / 綿100%
Regular Fit
Raglan Sleeves/Ribbed Side Panels/Ribbed Cuffs
Japanese Fabric / 日本生地
Made in Japan / 日本製
in]
|   | XS | S | M | L | XL | XXL |
| --- | --- | --- | --- | --- | --- | --- |
| Length | 24.4 | 25.2 | 26 | 26.8 | 27.6 | 28.3 |
| Chest | 20.8 | 22 | 23.2 | 24.4 | 25.6 | 26.8 |
| Sleeve | 32.7 | 33.2 | 33.8 | 34.5 | 35 | 35.6 |