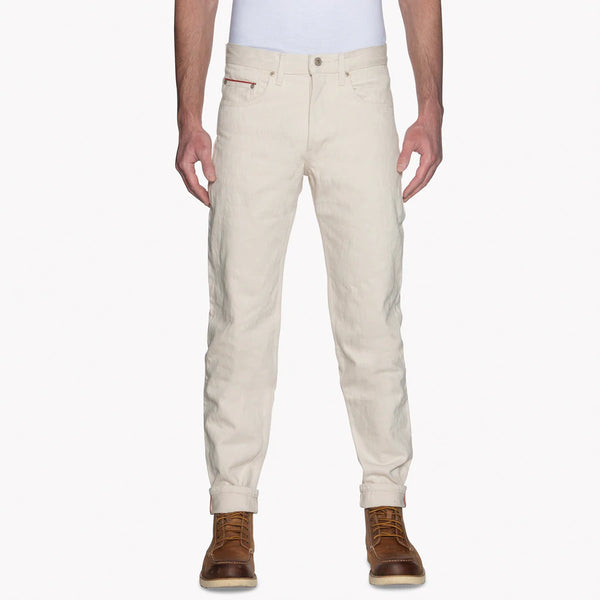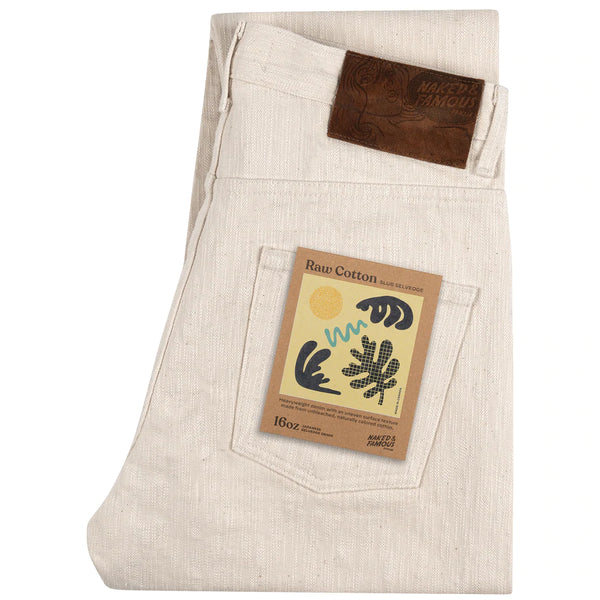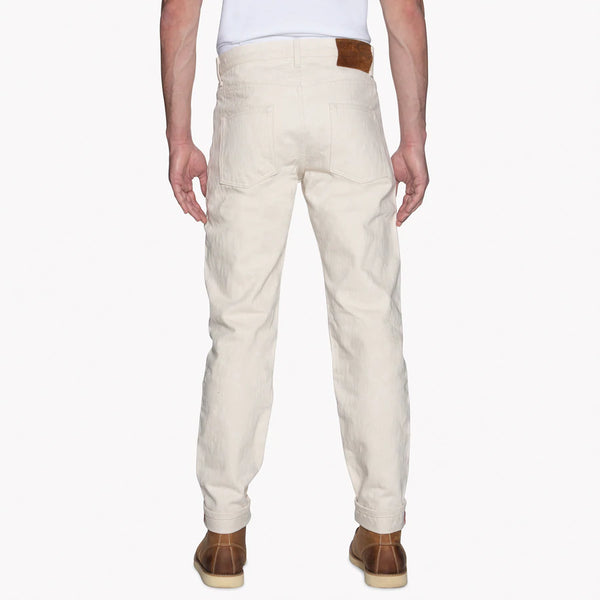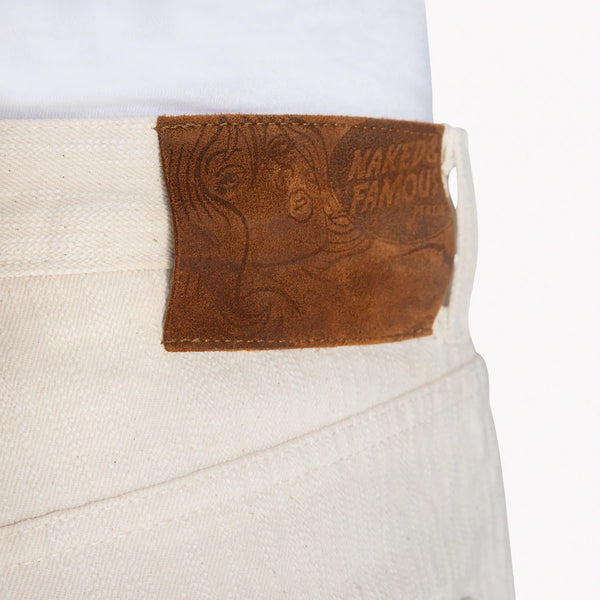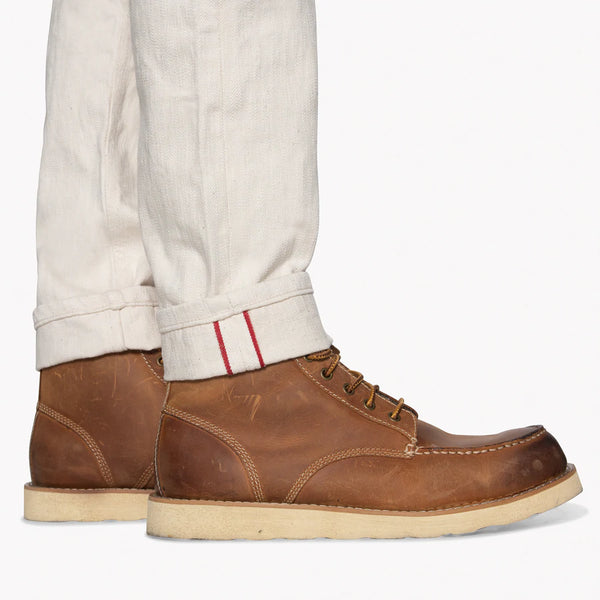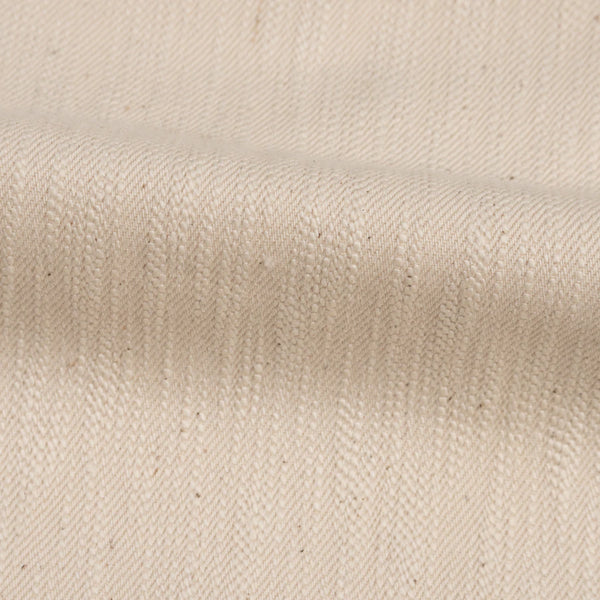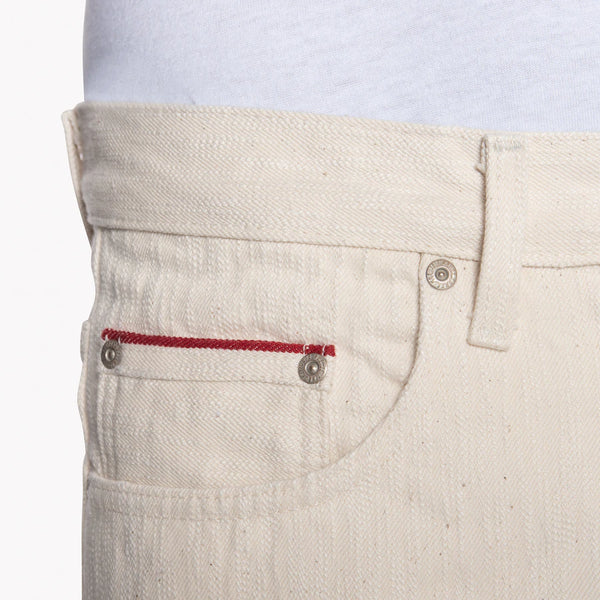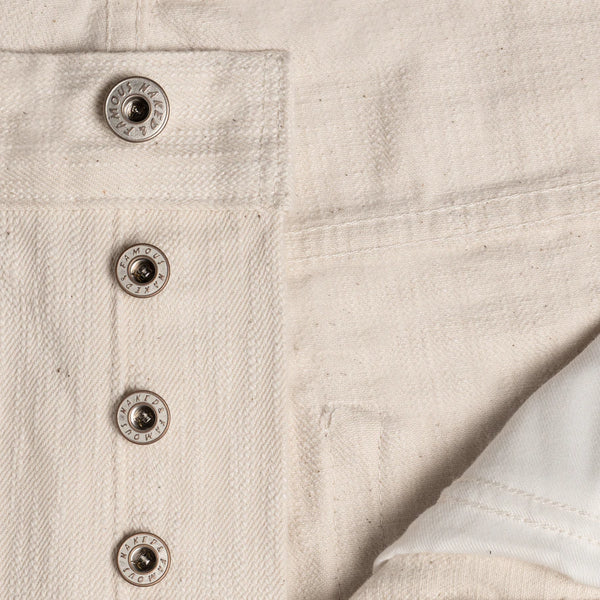 Easy Guy - Raw Cotton Slub Selvedge
The Raw Cotton Slub Selvedge is a 16oz Japanese Selvedge denim made with an undyed, unbleached natural cotton with an extremely uneven and bumpy texture. To create the uneven texture running throughout the denim, irregular shaped slub yarns are utilized in the weaving process These yarns are thick in some parts and thin in others and is what helps give the denim it's distinct texture. Low tension weaving creates further irregularity in the fabric for an almost handwoven appearance. The Raw Cotton Slub Selvedge is sanforized, so there should be minimal shrinkage when soaked or washed. Cut, sewn, built in Canada with tonal stitching, redline selvedge ID, a brown suede leather patch, and silver metallic buttons and rivets.
The Easy Guy is a high-rise tapered fit with a relaxed top block and a sharp taper from knee to hem.
16oz Japanese Selvedge Denim
100% Cotton
Made in Canada



| | | | | | | | | | |
| --- | --- | --- | --- | --- | --- | --- | --- | --- | --- |
| TAG SIZE | 30 | 31 | 32 | 33 | 34 | 36 | 38 | 40 | 42 |
| WAIST | 32" | 33" | 34" | 35" | 36" | 37" | 39" | 41" | 43" |
| FRONT RISE | 12" | 12" | 12.25" | 12.25" | 12.5" | 12.75" | 13" | 13.25" | 13.5" |
| BACK RISE | 15" | 15.5" | 15.5" | 15.75" | 15.75" | 16.25" | 16.5" | 16.5" | 16.75" |
| UPPER THIGH | 12.25" | 12.5" | 13" | 13.25" | 13.5" | 14" | 14.5" | 15" | 15.5" |
| KNEE | 9.25" | 9.25" | 9.5" | 9.75" | 10" | 10.5" | 10.75" | 11.25" | 11.75" |
| LEG OPENING | 6.25" | 6.5" | 6.75" | 6.75" | 7" | 7.5" | 7.75" | 8.25" | 8.5" |
| INSEAM | 33" | 33" | 33" | 33" | 33" | 33" | 33" | 33" | 33 |